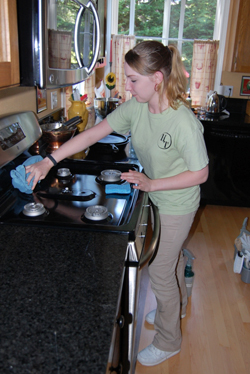 Routine Home Cleaning: Home Town Housekeeping offers three schedules for routine home cleaning. Weekly, Every Other Week, and Monthly. We will come and meet with you in your home to discuss your individual cleaning needs. We will then create a scope of work based on those specific needs and follow those instructions on each cleaning visit. Routine cleaning generally consists of cleaning bathrooms, kitchen, dusting and vacuuming your home. We recognize that every room in your home may not require cleaning. Those areas can be only cleaned at your request if you choose.


Express Cleaning: We recognize the everyone has a budget and we make every effort to stay within it. One alternative is express cleaning. This is where we only clean your kitchen and bathrooms. These are usually the most difficult areas to clean and the areas most of us don't like to do. This option leaves the vacuuming and dusting to you and delivers a lower cost.


Occasional Cleaning: If you don't want to routinely have your home professionally cleaned, you can call us on occasion and we will provide the same great service based on the scope of work you want. Call us for a deep spring cleaning and we give your home that deep clean feel.


Move Out Cleaning: We offer complete move out cleaning that will make your home ready for new renters or owners. We can satisfy the pickiest property managers and ensure that you get your deposit back if you are renting. We will clean out your refrigerator, clean your inside windows and tracks, bathrooms, kitchen, woodwork, oven, light globes and more.
Call to schedule a walk through.


Home Cleaning Prices: This largely will depend, however, on the size of your home and your habits. Call for a free walk through and accurate estimate.